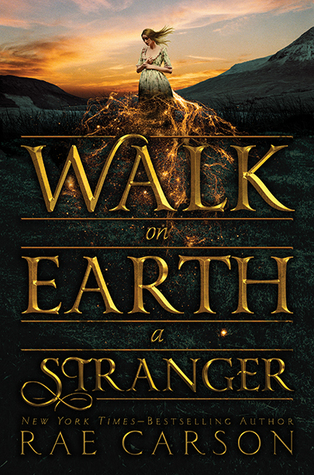 Walk on Earth a Stranger
by Rae Carson
Releasing September 22nd, 2015
Greenwillow Books
The first book in a new trilogy from acclaimed New York Times bestselling author Rae Carson. A young woman with the magical ability to sense the presence of gold must flee her home, taking her on a sweeping and dangerous journey across Gold Rush–era America.

Lee Westfall has a secret. She can sense the presence of gold in the world around her. Veins deep beneath the earth, pebbles in the river, nuggets dug up from the forest floor. The buzz of gold means warmth and life and home—until everything is ripped away by a man who wants to control her. Left with nothing, Lee disguises herself as a boy and takes to the trail across the country. Gold was discovered in California, and where else could such a magical girl find herself, find safety? Rae Carson, author of the acclaimed Girl of Fire and Thorns trilogy, dazzles with this new fantasy that subverts both our own history and familiar fantasy tropes.

Walk on Earth a Stranger, the first book in this new trilogy, introduces—as only Rae Carson can—a strong heroine, a perilous road, a fantastical twist, and a slow-burning romance. Includes a map and author's note on historical research.
Guys . . . I'm crying. Do you see this beauty? It's my heart! OMG I LOVE RAE CARSON SO MUCH.
Last year I read Rae Carson's Fire and Thorns trilogy, and it was beautiful. It was easily one of the best books I'd read of 2014, and immediately made my favorite shelves! I was so so so so so so so so so disappointed when I saw that she didn't have any other books.
NOW I AM SO HAPPY!
Obviously, I'm not hoping this will be anything like The Girl of Fire and Thorns, but I'm hoping that it will have the same experience, the same wonderful characters, and that Carson will create an epic and unique world!
SO
PUMPED
UP
FOR
THIS
SEXY
BEAST!!!!!!!!!!!!!!!!!!!!!!!!!!!!!!!!!!!!!!!!!!!!!!!!!!!!!!!!!!!!!!!!!!!!!!!!!!!!!!!!!!!!!!!!!!!!!!!!!!!!!!!!!!!!!
If you guys haven't read The Girl of Fire and Thorns THEN GO PICK UP THE DAMN BOOK.
Carson's writing style is amazing and wonderful . . . so beautiful. She has beautiful characters that are just . . . beautiful.
READ THIS. (And The Girl of Fire and Thorns . . . please?)