Lissa Dragomir is a Moroi princess: a mortal vampire with a rare gift for harnessing the earth's magic. She must be protected at all times from Strigoi; the fiercest vampires - the ones who never die. The powerful blend of human and vampire blood that flows through Rose Hathaway, Lissa's best friend, makes her a dhampir. Rose is dedicated to a dangerous life of protecting Lissa from the Strigoi, who are hell-bent on making Lissa one of them.
Rose has serious guy trouble. Her gorgeous tutor, Dimitri, has his eye on someone else, her friend Mason has a huge crush on her, and she keeps getting stuck in her best friend Lissa's head while she's making out with her boyfriend, Christian.
Then a nearby Strigoi attack puts St. Vladimir's on high alert, and the Academy whisks its students away on a mandatory holiday ski trip. But the glittering winter landscape and posh Idaho resort only provide the illusion of safety. When three students run away to strike back against the deadly Strigoi, Rose must join forces with Christian to rescue them. Only this time, Rose - and her heart - are in more danger than she ever could have imagined...
I really liked this book A LOT more than Vampire Academy!
This book had more world building and I can seriously start to see the tensions between the Moroi and the Strigoi begin to build up!
I thought that this book focused a lot more on Rose's "guy trouble" and it was honestly beginning to annoy me. I was considering giving this book a 2.5 star rating because of Rose. Confused?
"'Exactly. You and I'll have to go Strigoi hunting someday,' she teased.

'I don't think so,' I replied.

The words in and of themselves weren't that bad, but the tone I used to deliver them certainly was."
THIS BEHAVIOR WAS BECAUSE ROSE HEARD THAT DIMITRI LIKED TASHA. PERIOD. It got even worse at a certain point in the book.
"'Speaking of personal lives . . . I suppose you were off visiting Tasha, huh?'

I knew it was petty and I was expecting a 'none of your business' response.Instead, he replied, 'Actually, I was visiting your mother.'

'You going to hook up with her too?' I knew of course that he wasn't, but the quip seemed too good to pass up."
And then there's me over here on the sidelines like: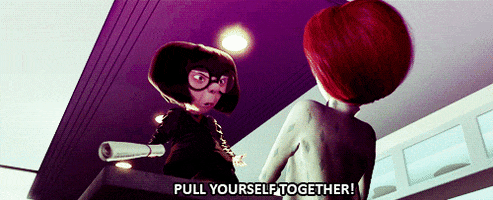 Like I said, I really enjoyed the storyline, but I feel like Rose Hathaway and I have a love-hate relationship. While it is true that I've never read another character like her, it is also true that she is just too impulsive and immature for my taste. But, there are amazing characters that I DO like! Such as: Lissa, Christian, ADRIAN IVASHKOV, Tasha (even if Rose was jealous of her), and Dimitri. He's a real sweetheart and even when Rose acts impulsive, he doesn't do the same to her.
I do admit, the second half is what made me really appreciate Rose and bump up my rating for this book.
"'Well. Like I said, I don't want to fight anymore. I don't want us to hate each other. And . . . well . . .' I squeezed my eyes shut and then opened them. 'No matter how I feel about us . . . I want you to be happy.'"
So, like I said! Love-hate relationship with Rose Hathaway! And, she shows a lot of strength and leadership potential! So, I was happy in the direction this book went towards the end!
Overall, Frostbite really felt like one until the second half. I was really impressed after with the direction this book went in! So, I really enjoyed the second half more than the first. The second half is probably the only reason I'm giving this a 4 out of 5 star rating. So, I am reading the next book in this series, Shadow Kiss sometime . . . soon? I've got a huge reading pile.
Thanks for reading my review guys, and hope you have a great day! Until the next one.