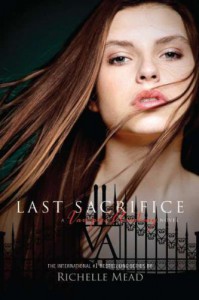 I am so glad that I was more than satisfied with the ending of this series.
The way this series started, and the way it ended up is just so different and amazing! Personally, I cannot believe I ever doubted that this series could reach the same heights it had with the third book, and although I took my sweet time finishing this, I enjoyed it nonetheless!
Rose Hathaway, is hands down, one of my most favorite female characters in YA. She has grown on me, and I love Rose's determination and fierce loyalty. I am so happy that Rose didn't change or anything toward the end of the series, instead she's gotten better when even other character that I love haven't!
"What the hell?" I asked. Is this daring escape being sponsored by Honda?"
The pacing of this story felt exactly like the last. It moved fast and plot points and characterization was done extremely well (in my fangirling opinion of course—not like I'm being biased or anything).
I haven't mentioned in an previous reviews, but I would like to point out that I think the side characters have really grown, even though we see some of this through Rose's visions sometimes as she's watching Lissa, and I'm glad that they did show that. I do admit, I thought it was annoying in Blood Promise but after that, I thought that they showed really good insight, especially through Lissa's head, and I am glad we did get to see that.
Unfortunately, a lot of the things I'm talking about will be spoilers.
(show spoiler)
Overall, Last Sacrifice was an amazing conclusion that fairly wrapped up all plots, and subplots. I am happy with the way that things turned out in the end! I am so glad that I went through with this amazing series, and I can already feel myself missing the characters! :D
Thanks for reading my review everyone! Hope you have a great day and until the next one! :D